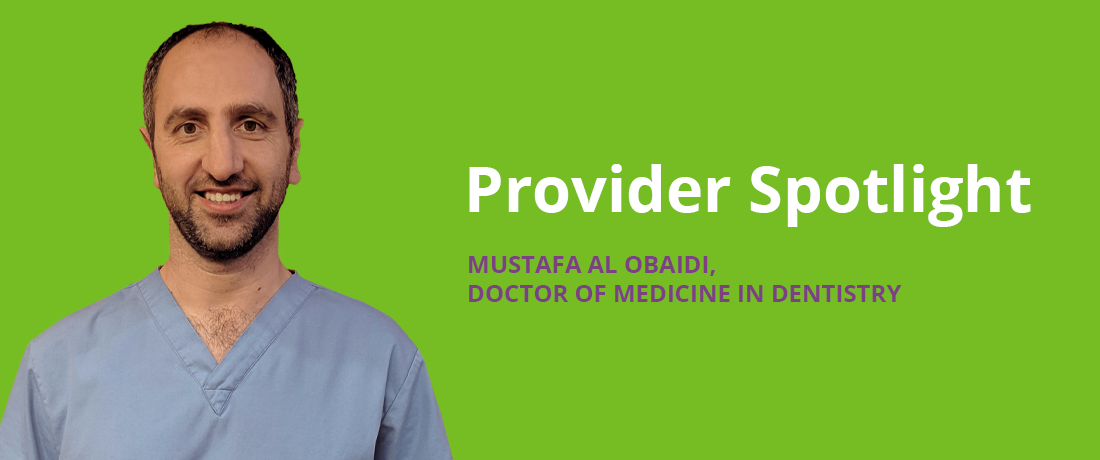 Mustafa Al Obaidi, Doctor of Medicine in Dentistry
Brief description of your professional expertise/experience/reason for choosing your field:
I completed one year of residency and I have been a general dentist for 14 years. Dentistry was my childhood dream career; it is a blend of art and science, and I wanted to bring that philosophy to KCHC.
Why did you choose to work for Kenosha Community Health Center, Inc.?
I have been serving patients through community health centers since 2016. I enjoy helping patients improve their oral health, and want to make sure that everyone is given the chance to live with a healthy, beautiful smile.
Education Background:  
I graduated in 2004 from University of Baghdad/Iraq, with my Bachelor of Dental Surgery (BDS) and in 2016, from University of Illinois with my Doctor of Dental Medicine (DDM).
Board Certifications/Awards/Nominations:
Dr. Obaidi received the Dr. Gerson Gould and Ms. Sol H. Gould Memorial Scholarship in honor of academic and clinical experience.
Clinical Interests:
My focus remains on more extensive dental work like fillings, extractions and root canals and keeping the patient comfortable during these more intense procedures.
Practice Location:
14th Avenue
Accepting New Patients:
Yes
Do not wait to schedule your appointment.
Kenosha Community Health Center has many appointment options in Kenosha and Silver Lake to meet your needs.