SUPPORT BETTER VISION
A Pathway to Clearer Sight Campaign
This holiday season, Kenosha Community Health Center and Pillar Health extend a heartfelt invitation to join us in a mission to address an important community health need. This mission of hope and change is to bring clearer sight to the students of our community. 'A Pathway to Clearer Sight' is more than just a campaign; it's a promise for a brighter future.
Imagine a world seen through the eyes of a child who struggles to see clearly – where learning is hindered, and the simple beauty of the world remains blurred. This is the reality for too many of our students, as highlighted by the striking findings from the 2022-23 KUSD In-School Vision Screening.
Help us achieve our $250,000 funding goal to establish the Pillar Kids Optometry Program
Only 24% Of Referred Students Received Glasses
Only 24% Of Referred Students Received Glasses
Our initiative aims to bridge this critical gap in vision care, ensuring that our children's sight, a key to their educational and personal development, is not left to chance. We believe in a community where every child has the opportunity to see the world in all its vibrancy and to learn without barriers. Your support will help provide full professional eye exams, affordable vision correction and education for families on the importance of eye health.
Let's join hands this holiday season to create a future where every child in Kenosha, Racine, and Walworth Counties can see clearly and reach for the stars. Your contribution, big or small, is a step towards a brighter, clearer tomorrow for our young ones.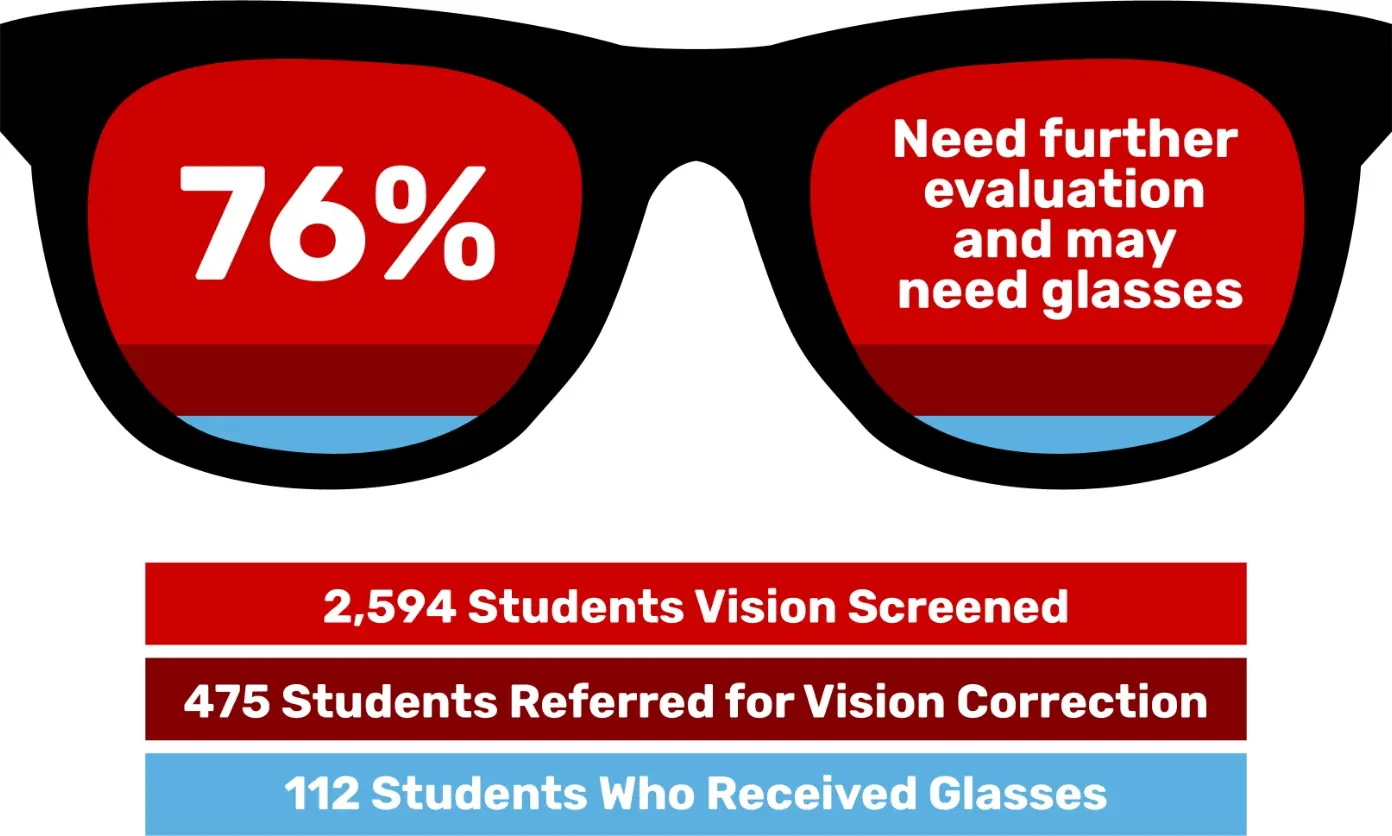 Rebekah Miller, BSN, Public Health Nurse Supervisor – School Consultant,
Kenosha County Health Department
VISION CARE BARRIERS
Several barriers contribute to this low percentage of Kenosha County students with access to Vision Care, including:
Lack of insurance coverage.
High copays even for those with insurance.
Language barriers for non-English speaking families.
Challenges in securing timely appointments with providers.
The transient nature of some families.
A general lack of awareness about the importance of vision care.
Program Overview for Improved Access to Pediatric Optometry Services
Kenosha Community Health Center and Pillar Health propose a Pediatric Optometry Program in Kenosha, Racine, and Walworth Counties that's designed to eliminate barriers through:
Securing adequate funding via donations and grants.
Employing bilingual providers and support staff to overcome language barriers.
Offering school-based services for easier access.
Educating families on the critical importance of vision health.
By supporting this campaign, donors and grantors will play a pivotal role in ensuring that students in need receive essential vision care, ultimately contributing to their overall health and academic success. Supporting Kenosha Community Health Center (KCHC) and Pillar Health is crucial for maintaining a key community resource in Kenosha, established in 1995. With a community-rooted board of directors, KCHC fosters trust and collaboration in healthcare. As a Federally Qualified Health Center (FQHC), they provide essential medical, dental, and mental health services, acting as a safety net for the community. FQHCs are outpatient clinics eligible for specific Medicare and Medicaid reimbursement systems. During Giving Tuesday and throughout December, donations will support the launch of a Pediatric Optometry Program for the 2024-25 school year, aiming to leverage their expertise in mobile and portable care to overcome barriers to vision care and improve visual health for local students.
Kenosha Community Health Center is a 501(c)(3) organization in Kenosha County, serving Kenosha, Racine, and Walworth Counties since 1995. We are a Federally Qualified Health Center (FQHC) offering affordable medical, dental, and behavioral health services to the citizens of Kenosha, Racine, and Walworth Counties, with a service area population of approximately 486,389 people. As a nonprofit organization, we provide a sliding fee scale to citizens without insurance.