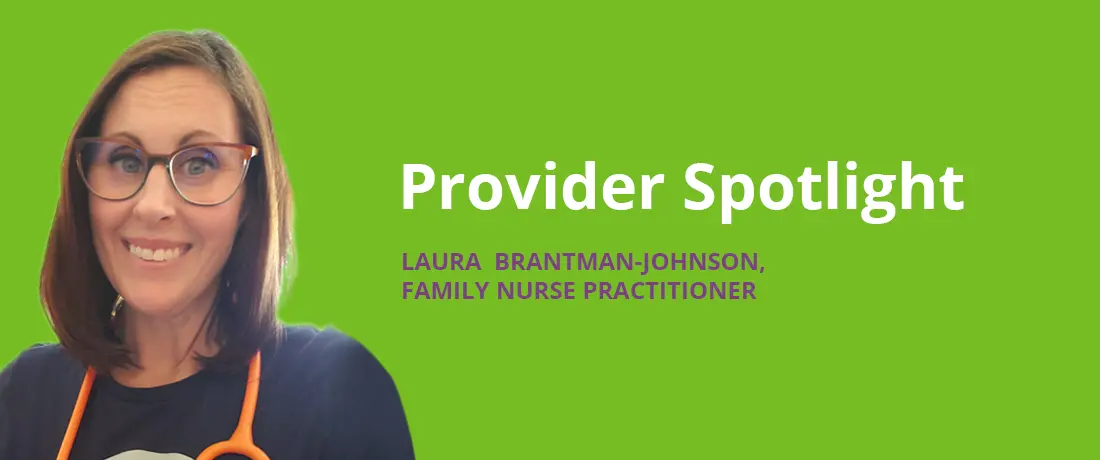 Laura  Brantman-Johnson, Family Nurse Practitioner
Specialties: Family Practice
Brief description of your professional expertise/experience/reason for choosing your field:
I became a nurse practitioner in 2015, and worked in a cardiology practice until I started at KCHC. I am also a volunteer nurse practitioner at a clinic in Racine. I became a nurse in 2011, and decided to continue my nursing education because I saw the need for more primary care providers.
Why did you choose to work for Kenosha Community Health Center, Inc.?
I came to KCHC because I really enjoy my volunteer work at the free clinic, and the opportunity to see patients at a community clinic full time was a dream come true. My first nursing job was in Kenosha at the hospital near downtown and the people I served there were great. Kenosha is a really great place.
Education Background:  
I graduated with my Masters in Nursing from Alverno in Milwaukee, and am currently working toward my doctorate in nursing which I will complete the summer of 2020.
I also completed a nursing leadership fellowship through the Duke-Johnson & Johnson Nurse Leadership Program in 2018
Board Certifications/Awards/Nominations:
Family Nurse Practitoner- ANCC
Clinical Interests:
I see kids over 13 and adults for primary care, and I see all ages for acute illnesses.
Practice Location:
22nd Avenue
Accepting New Patients:
Yes
Do not wait to schedule your appointment.
Kenosha Community Health Center has many appointment options in Kenosha and Silver Lake to meet your needs.