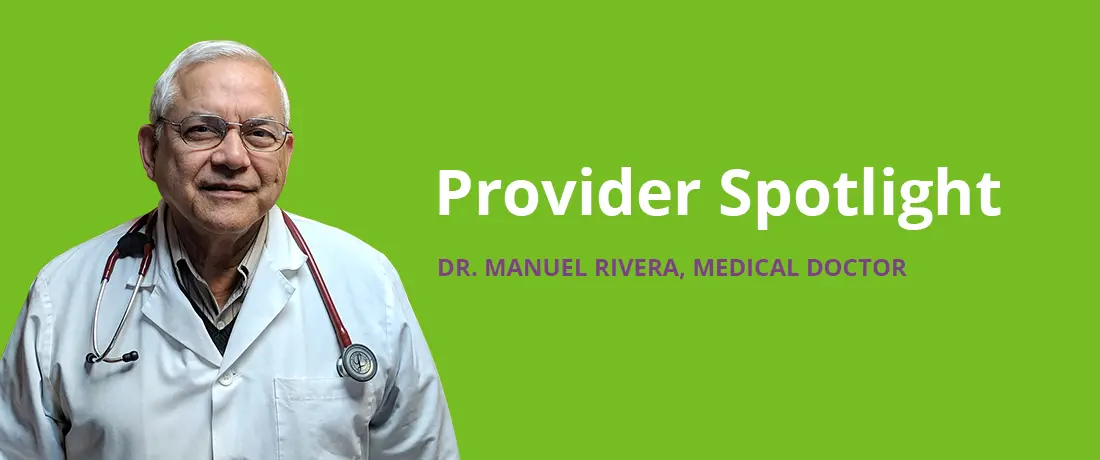 Dr. Manuel Rivera, Medical Doctor
Specialties: Emergency Medicine; Trained in Internal Medicine
Brief description of your professional expertise/experience/reason for choosing your field:
I have been serving patients in emergency medicine for 33 years.
Why did you choose to work for Kenosha Community Health Center, Inc.?
I decided to contribute, and use some of my knowledge gained through many years in emergency medicine, to patients in community medicine.
Education Background:  
Undergraduate- University of Texas at El Paso
Medical School – Southwestern Medical School, Dallas, TX, 1983
Board Certifications/Awards/Nominations:</bstrong
Residency in Internal Medicine
Certified in ACLS (Advanced Cardiac Life Support)
Certified in ATLS (Advanced Trauma Life Support)
Certified in PALS (Pediatric Advanced Life Support)
Clinical Interests:</bstrong
My professional interests include Emergency Medicine and Alternative Medicine. I enjoy investigating natural ways of treating disease.
Practice Location:
22nd Avenue
Accepting New Patients:
Yes
Languages (other than English):
Spanish
Do not wait to schedule your appointment.
Kenosha Community Health Center has many appointment options in Kenosha and Silver Lake to meet your needs.