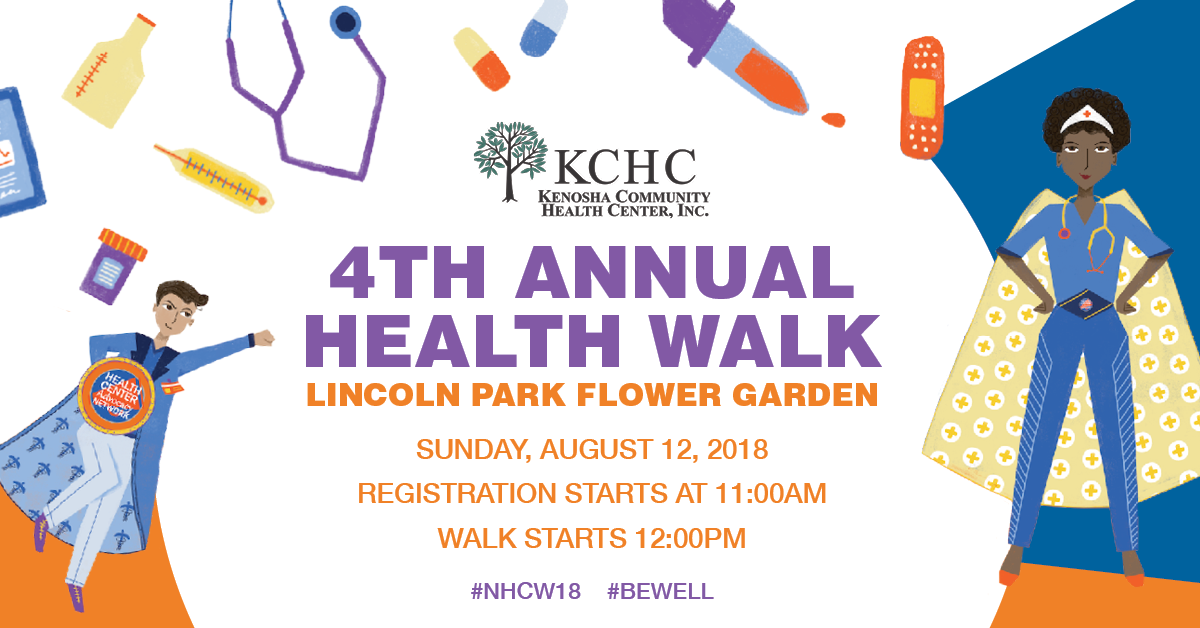 The Kenosha Community Health Center (KCHC) is hosting a FREE health walk for the residents of Kenosha County. The 1-mile Health Walk registration will start at 11 a.m. at the Lincoln Park Flower Garden (located at 2120 63rd St.) on August 12th and the walk plus family-friendly festivities will run 12:00 to 2:00 p.m. All participants will receive a free shirt, as well as a light lunch after the walk. Generous event sponsors include Anthem Blue Cross Blue Shield, Gordie Boucher, The Mary Lou & Arthur F. Mahone Fund, Molina Healthcare & UnitedHealthcare.
This event is part of National Health Center Week that runs August 12 – 18. The focus of the campaign is to raise awareness about the mission and accomplishments of America's Health Centers, and the dedicated staff who bring health care to the medically underserved. The heroes who work at health centers, and help make affordable health care possible for people in need, are at the center of this year's Health Center Week. During this week, the KCHC will also have a resource table at the Kenosha Harbor Market and will host an open house for community stakeholders.
KCHC is a Federally Qualified Health Center (FQHC) providing comprehensive Medical, Dental, Behavioral Health and Case Management services to underserved residents in Kenosha County. KCHC currently provides care to over 15,000 patients. KCHC also collaborates with Kenosha Unified School District to operate a school dental sealant program that reached 1,200 children last school year. To download a PDF of the press release, click here.
To get involved in National Health Center Week activities , please contact Ahmad Landrum at [email protected] or 262-925-1665.
Do not wait to schedule your appointment.
Kenosha Community Health Center has many appointment options in Kenosha and Silver Lake to meet your needs.