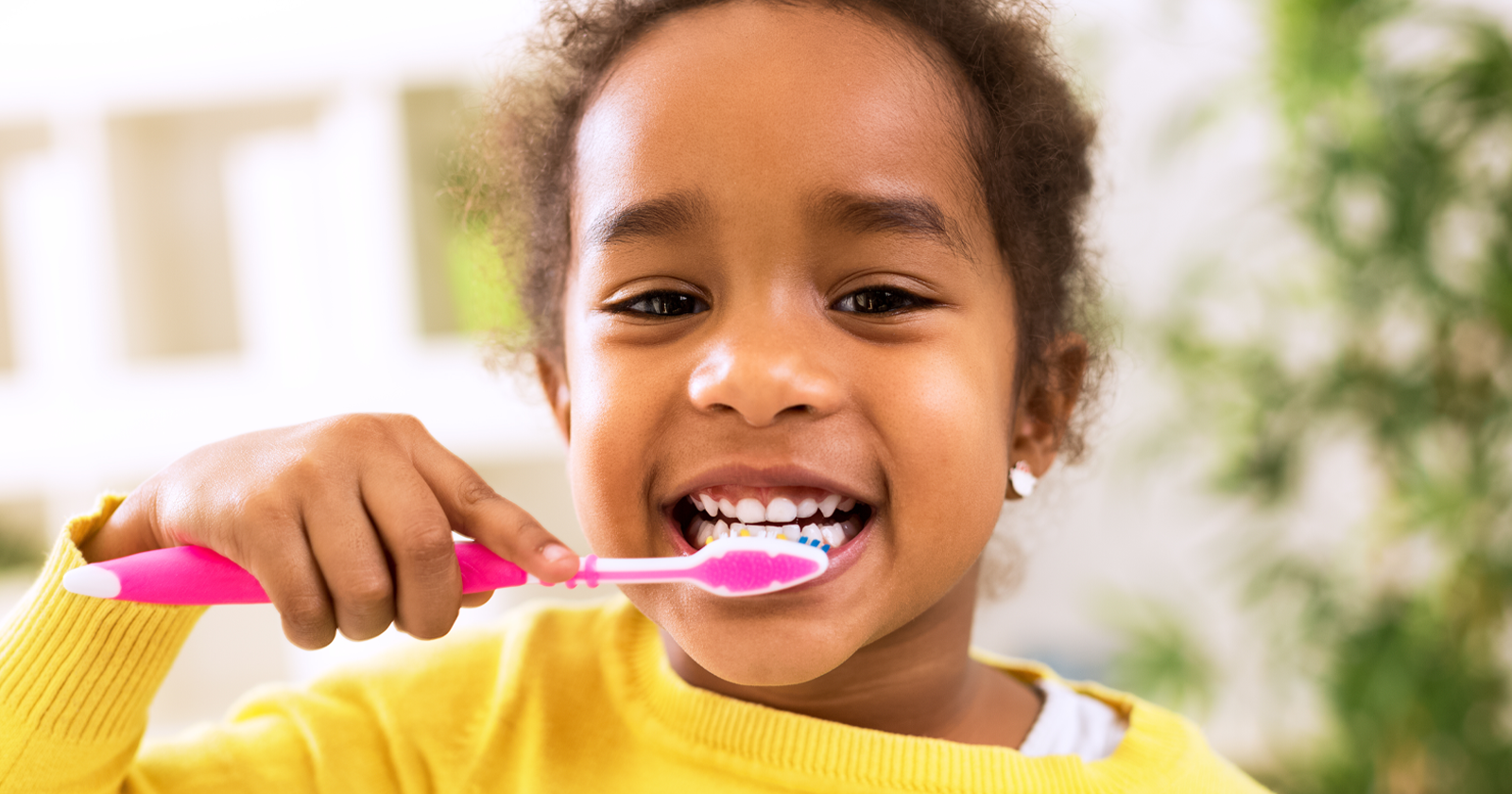 UNTREATED CAVITIES CAN CAUSE PAIN, INFECTIONS, AND CAN LEAD TO PROBLEMS EATING, SPEAKING, AND LEARNING. MORE THAN 1 IN 5 CHILDREN AGED 2 TO 5 YEARS HAS AT LEAST ONE CAVITY IN THEIR BABY TEETH.
However, cavities are preventable. You can protect and maintain your child's teeth by following these wise simple steps below:
Protect tiny teeth by caring for your mouth when you're pregnant. Your child's future oral health starts with you!
Ensure to wipe your baby's gums after each meal.
Avoid putting babies to bed with a bottle.
Remember to brush your child's teeth twice daily with fluoride toothpaste. For children younger than 2 years, consult with your dentist or doctor about when to start using fluoride toothpaste.
Limit drinks and food with added sugars for children. Encourage your child to eat more fruits and vegetables and have fewer fruit drinks, cookies, and candies. This gives your child the best possible start to good oral health.
Schedule your child's first dental visit by their first birthday or after their first tooth appears. Their tiny teeth matter!
KCHC dentists and hygienists provide children and adults with preventive and general dental care and education to help patients gain lasting dental health that makes them smile.
We invite you to call 262-656-0044 to schedule a dental appointment with one of our many dental providers located at 6226 14th Avenue in Kenosha or 903 S. 2nd Street in Silver Lake.
INSURANCE ACCEPTED: MOST COMMERCIAL INSURANCE, MEDICAID, STATE INSURANCE, FORWARD HEALTH. UNINSURED PATIENTS ARE WELCOME.
ABOUT 20% OF CHILDREN AGED 5 TO 11 HAVE AT LEAST ONE UNTREATED DECAYED TOOTH.*
13% OF ADOLESCENTS AGED 12 TO 19 HAVE AT LEAST ONE UNTREATED DECAYED TOOTH.*
CHILDREN AGED 5 TO 19 FROM LOW-INCOME FAMILIES ARE TWICE AS LIKELY (25%) TO HAVE CAVITIES, COMPARED WITH CHILDREN FROM HIGHER-INCOME HOUSEHOLDS (11%).*
*National Center for Health Statistics, Centers for Disease Control and Prevention; 2012.