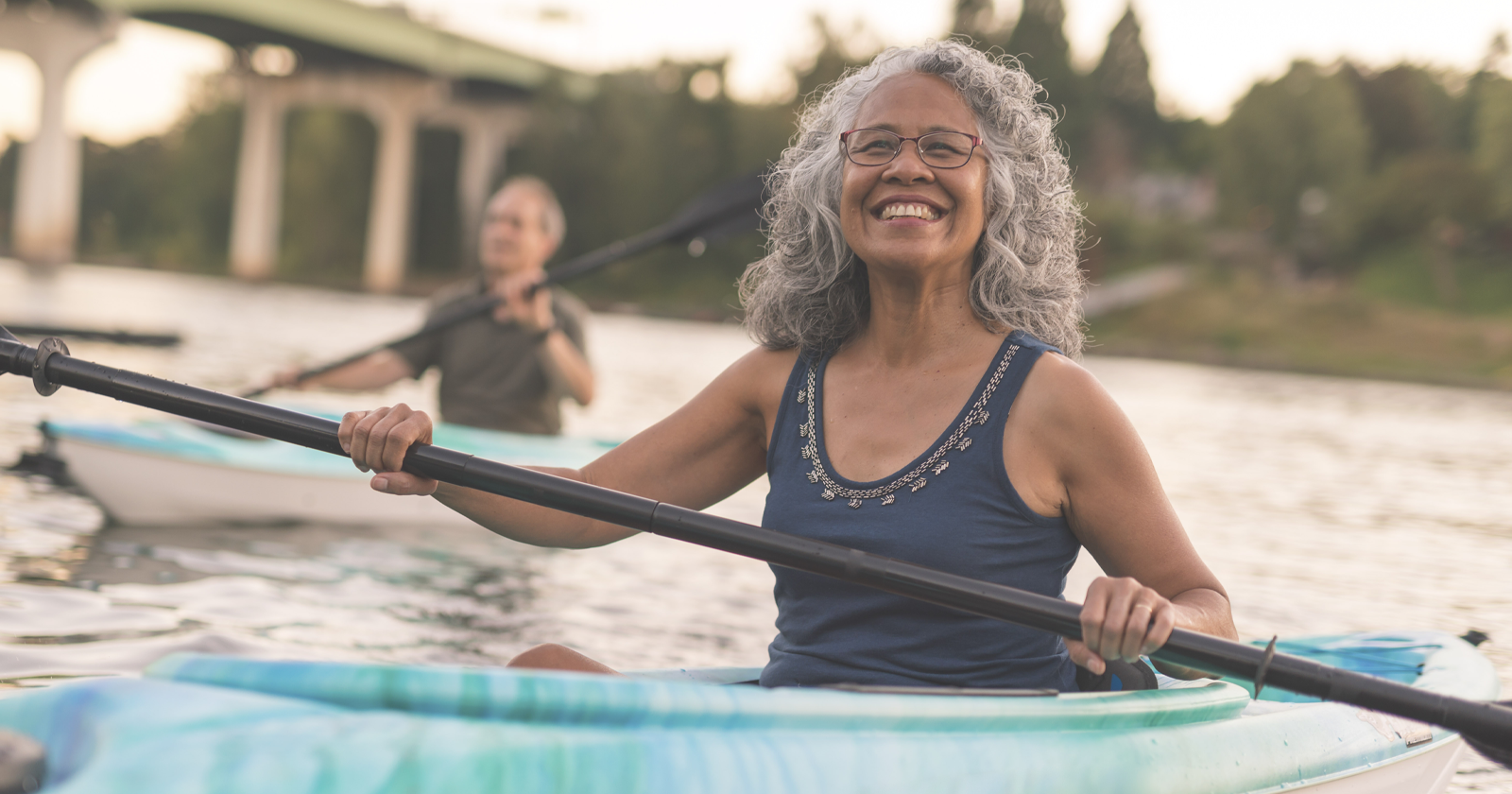 THINK IT'S TOO LATE TO "RE-INVENT" YOURSELF? THINK AGAIN AND CHANGE THINGS UP.
September is Healthy Aging® Month, an annual health observance designed to focus national attention on the positive aspects of growing older. It provides inspiration and practical ideas for adults, ages 45+, to improve physical, mental, social, and financial well-being.
The number of people in the 45+ age group grows every year. The attention used to be just on the baby boomers to stay active and vibrant as long as possible. However, the focus started to include the Generation X-ers who began reaching the 50+ milestone in 2015.
WHY HEALTHY AGING?
According to Healthy Aging Magazine, it's not too late to take control of your health and it's never too late to get started on something new. Change the conversation to the positive aspects of aging instead of dwelling on the stereotypes and the negative aspects of getting older.
September is a perfect time to celebrate Healthy Aging Month since it is a time when many people think about getting started on new tasks after the summer. Drawing on the "back to school" urge embedded in everyone from childhood, the activities are designed to encourage people to rejuvenate and get going on positive measures that can impact the areas of physical, social, financial and mental wellness.
Here are 10 tips from the editors of Healthy Aging® magazine to help you think outside the box and reinvent yourself a bit.
Do not act your age or at least what you think is your current age. Think in terms of your best year so far. Was it 28? 40? Now? Picture yourself at that age and be it. Some may think this is denial, but we say it's positive thinking and goes a long way toward feeling better about yourself.
Be positive in your conversations and your actions every day. When you catch yourself complaining, check yourself right there and change the conversation to something positive. Being positive is attractive; negativity is not.
Drop the negativity. Distance yourself from people who do not have a positive outlook on life. They will only depress you and stop you from moving forward. Surround yourself with energetic, happy, positive people of all ages and you will be happier too.  Smile often. It's contagious.
Walking tall is a trademark of a vibrant, healthy person. Do this to the best of your ability. Be aware of your gait. Make a conscious effort to take big strides, walk with your heel first, and wear comfortable shoes. If you have a fear of falling, talk with your doctor about an assistive device, such as a cane.
Stand up straight! Good posture is something your mother preached to you when growing up. Look at yourself in the mirror. Is your stomach in, chest out, shoulders back, and chin up? Check out how much better your neck looks! Fix your stance and practice it every day, all day until it becomes natural for you. You will look great and feel better.
Show off your teeth. How's your smile? Your teeth are just as important to good health as the rest of your body. Not only is it the first thing people notice, but good oral health is a gateway to your overall well-being. See your dentist and dental hygienist regularly to keep your teeth looking good.
If you're feeling lonely do something about it now. Look for opportunities to volunteer your time, take a class, or invite someone to lunch, or for coffee. Consider being a mentor to young people and find a resource to help you keep up with technology and stay connected.
Try to walk 10,000 steps per day. Walk for your health, to see your neighbors, and be seen in your community. Walking is great exercise that helps to build muscle and also improves circulation and digestion.
Maintain wellness. Make September the time to set up your annual physical and other health screenings. Go to the appointments and then, continue to manage your health accordingly.
Explore your creative side. Have you always wanted to play the piano, or guitar? Have you ever wondered if you could paint a portrait or scenery? What about woodworking? Creative projects help to keep your mind active.
According to Carolyn Worthington, editor-in-chief of Healthy Aging® Magazine and executive director of Healthy Aging®, it's never too late to find a new career, a new sport, passion, or hobby. Worthington is the creator of September is Healthy Aging® Month, an annual health observance designed to focus national attention on the positive aspects of growing older.
KCHC has a multi-disciplinary team of primary care providers to ensure that every patient has access to high-quality, compassionate care at every age. If you're ready to make an appointment with our behavioral health providers, medical providers, or dental providers please call 262-447-8583 today!
CHRONIC DISEASES
Older adults are disproportionally affected by chronic conditions, such as diabetes, arthritis, and heart disease. Eighty percent have at least one chronic condition3, and nearly 70% of Medicare beneficiaries have two or more.
PHYSICAL ACTIVITY
Regular exercise can help older adults stay independent and prevent many health problems that come with age. According to the 2008 Physical Activity Guidelines for Americans, older adults should do two types of physical activities each week to improve their health—aerobic and muscle-strengthening.
ORAL HEALTH
Oral health is important for overall health and well-being, but 40% of older adults have not seen a dentist in the last year.
Poor oral health can negatively impact nutrition and proper management of chronic conditions.
BEHAVIORAL HEALTH
One in four older adults experiences a behavioral health problem such as depression, anxiety, or substance abuse.
Depression and other behavioral health problems are not a normal part of aging and can be treated. Despite the availability of effective interventions, 66% of older adults are not receiving the care they need.