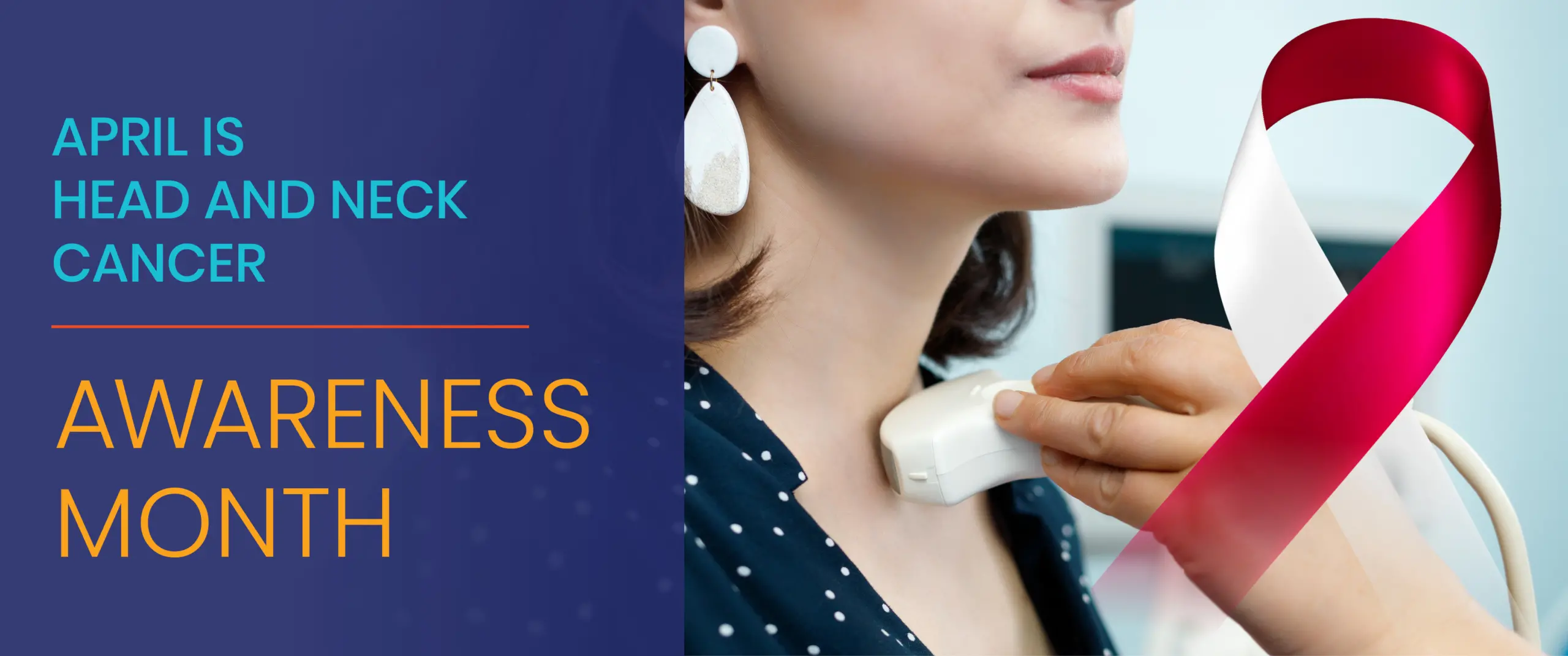 Head and neck cancer refers to a group of cancers that develop in or around the throat, larynx, nose, sinuses, or mouth. According to the American Cancer Society, over 50,000 Americans are diagnosed with head and neck cancer each year. Head and neck cancers are treatable when diagnosed at an early stage. However, if left undetected or untreated, these diseases can spread to other parts of the body and become more challenging to treat. Unfortunately, these forms of cancer are often discovered in their late stages, because the symptoms are not always noticeable. The most common symptoms of head and neck cancer:
A lump or sore that does not heal
A sore throat that does not go away
Trouble swallowing
The good news is that these cancers are preventable. The best method for prevention from the leading causes are:
Avoid tobacco use
Avoid alcohol
Obtain the HPV vaccination
RISK FACTORS
Head and neck cancers are serious illnesses that can be fatal if not caught early. Therefore, it is essential to be aware of the risk factors for these cancers so that you can take steps to reduce your risk.
They are more common among men than women and are diagnosed more often among people over age 50.
HPV, a virus passed from person to person through sexual contact, is the leading cause of head and neck cancer in people under the age of 50. Unfortunately, about 80 percent of sexually active people have HPV. Per the Center for Disease Control, HPV vaccination works extremely well and has the potential to prevent more than 90% of HPV-attributable cancers. This includes reducing the risk for head and neck cancer. Full vaccination is recommended by age 26 and is an option for the 27- 45 age group after consultation with a health provider.
Eating preserved or salted foods increases the risk of these cancers. Poor oral hygiene and missing teeth can also lead to head and neck cancer. Occupational exposure to wood dust, asbestos, synthetic fibers and radiation increase head and neck cancer risk.
Although head and neck cancers are not as common as other types of cancer, they can be just as deadly. They are the fifth leading cause of cancer death worldwide. They usually can be treated successfully with surgery, radiation therapy, chemotherapy, or targeted therapy, but early detection is key to successful treatment.
February 2021 was a big month for cancer research.
The American Association for Cancer Research (AACR) and The Mark Foundation for Cancer Research announced five cancer research grants. The Herbert Irving Comprehensive Cancer Center at Columbia University was awarded a 3-year, $750,000 grant for a project entitled "Biological mechanism and risk factor of head and neck cancer in Blacks."
This grant will allow the research team to study head and neck cancer's biological mechanisms and risk factors in Black patients. They hope to use this information to develop more targeted and effective treatments for the Black population. In addition, they hope to improve our understanding of the role that race plays in cancer development and progression. This is an important step in achieving equity in cancer treatment and outcomes. This important work will help reduce health disparities in head and neck cancer.
If you are concerned about your risk of head and neck cancer, or if you have any of the symptoms mentioned above, be sure to make an appointment with the Kenosha Community Health Center's dental staff by calling (262) 656-0044. Remember that early detection is key to successful treatment.
ORAL AND NECK CANCER SYMPTOMS
There are several symptoms of oral cancer that you should be aware of. These include:
persistent mouth pain,
a sore that does not heal,
bleeding in the mouth,
white or red patches on the gums or tongue,
difficulty swallowing, or
a lump in the neck.
If you experience any of these symptoms, it is important to see your dentist or doctor right away so that the condition can be properly diagnosed and treated.