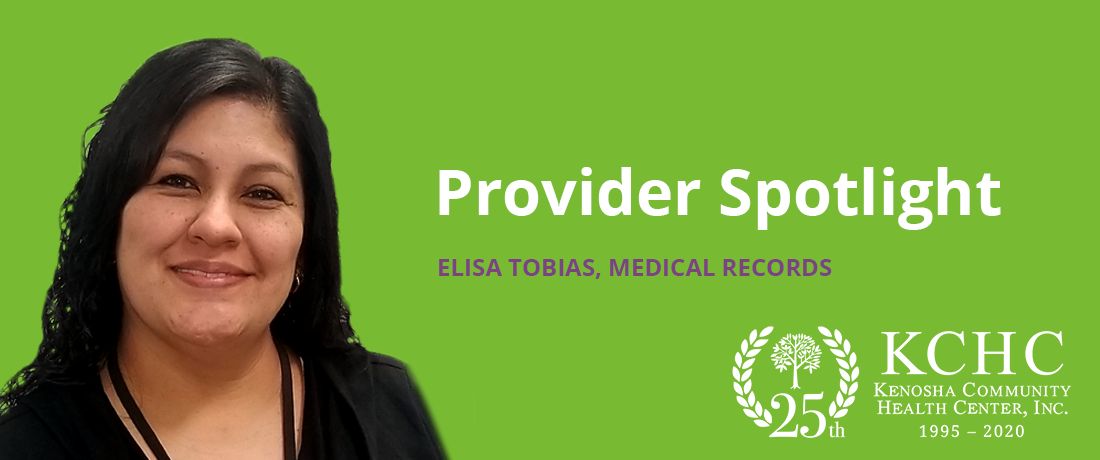 Celebrating 25 Years at the Kenosha Community Health Center with Elisa Tobias:
As we celebrate our 25th Anniversary we also celebrate our longest standing team member Elisa Tobias.
"In 1995, I applied, was interviewed, and the CEO back then came out and said, 'Can you start on Monday?' and I said, 'I sure can.' The rest is history."
Elisa started her KCHC career at the front desk and soon advanced beyond that position. Her bilingual skills often brought her in contact with patients and her interest in patient care has grown stronger each year. She was then offered a medical assistant position, Elisa "accepted the challenge" and soon began training at Gateway Technical College. She enjoyed 13 years as an CNA with KCHC, helping families throughout the Kenosha community.
Elisa, who now works in Medical Records, acknowledges her dedication to teamwork and to KCHC overall, as part of her success with the organization. "I have always been about teamwork so wherever I was needed, I would help. I  did a bit of billing, referrals and you could even say maintenance, after unplugging quite a few toilets and changing a few lightbulbs over the years." 
Her favorite part of her life with KCHC, has always been the people she works for, who have helped her gain so many fond memories, along with her ability to help so many people in the community.
Elisa feels her biggest accomplishment with KCHC  is the fulfillment of her childhood dream of helping others. "I would have to say this was a childhood dream. In my younger years, I remember telling my family I wanted to work in the medical field and help others. I think I've done that, in many ways, working for KCHC for 25 years."
As the KCHC celebrates its 25th Anniversary, Elisa reflects back on her enjoyment in watching the KCHC  grow and expand its offerings to the community. From the opening in 1995 to the expansion into Silver Lake to celebrating the 25th Anniversary, Elisa says she "often looks back at where we started and where we are now. I must say, it's been a privilege and I'm happy to be a part of KCHC."
When not working hard at KCHC to help the local community, Elisa enjoys spending time with her family or just relaxing at home watching movies.