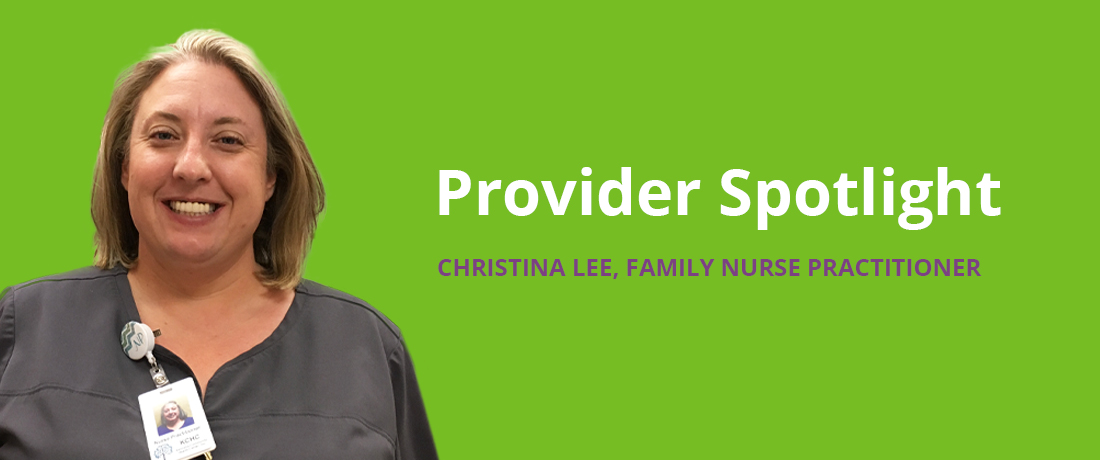 Provider Spotlight: Christina Lee
About Me:
I am a new member of the KCHC team, and joined in May of  2019.  I am  certified through the
American Academy of Nurse Practitioners
as a Family Nurse Practitioner.  I  received my Masters of Science in Nursing  from
The University of St. Francis
in Joliet , IL in 2013. I have recently moved to the
Kenosha
area, and am from Chicago, IL.  I have had over 10 years of  previous experience working as a Nurse Practitioner,  and Registered Nurse,  in the Pediatric Emergency Department, at
Advocate Christ Medical Center
, on the south side of Chicago.  While working there I recognized the need for
better access to pediatric providers in primary care
, especially in rural and critical access areas, which is what has drawn me to KCHC and the Kenosha area.
Why did you choose to work for Kenosha Community Health Center, Inc.?
I have always enjoyed working with children. I have a licensed therapy dog named "Louie" and  on off days we enjoy  volunteering at local Children's Hospitals, schools and  participating in a number of  children's reading programs. There is no doubt in my mind that  pediatrics is the career for me. I know that the early years of one's life are so impressionable and are critical for preventing chronic disease, I also understand the importance of  recognizing developmental milestones and providing guidance to pediatric patients and their families. Having worked in a very busy pediatric emergency practice for the majority of my career, I look forward to the opportunity to  get to know my patients,  and building a close relationship with them and their families.
My ultimate goal as a pediatric provider is to ensure that each patient receives the highest level of quality, and  consistent care, by assuring that each child receives individual, personal attention, and also by building  a long term, open relationship built on mutual trust and respect with the patient, and the people that know him or her the best.   I look forward to this chapter in my life with KCHC, and am thankful for the opportunity to  provide the highest level of care to the children and families of  Kenosha, Wisconsin; and surrounding areas.
I will be accepting new patients at the
Boys and Girls Club
at the 52
nd
 St. location  in Kenosha.