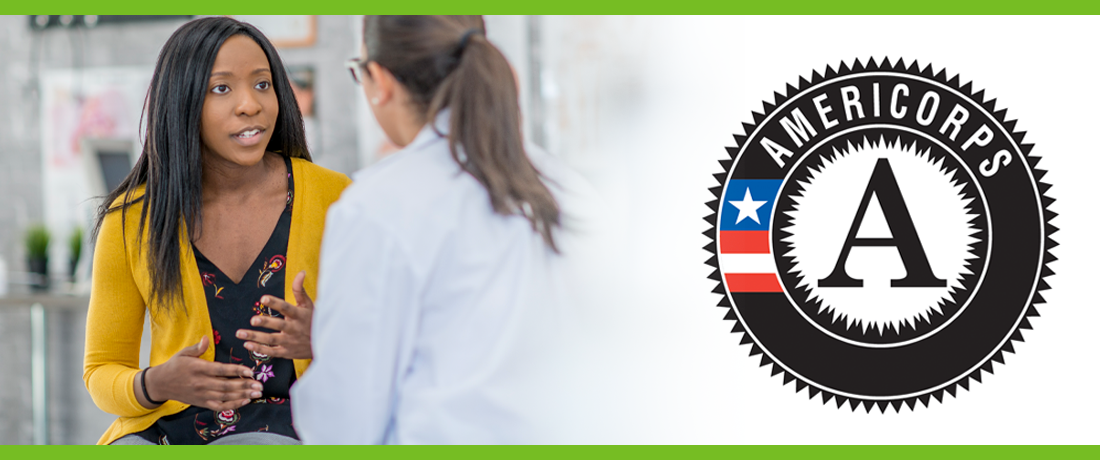 Join in Kenosha Community Health Center's mission to provide dental, medical, behavioral health, and case management services to the low-income, underserved population in Kenosha County and the surrounding Communities. KCHC serves all individuals and is a safety net for those who need us. AmeriCorps Member(s) will expand KCHC's service capacity and community outreach efforts while promoting Wisconsin HealthCorps' performance expectations KCHC's AmeriCorps Member(s) model is structured to provide participants with the widest possible experience in an FQHC. When you end your year with us, you will have a comprehensive picture of how an FQHC operates. You will also leave with training and experience that will allow you to work one-on-one with community members to help them meet their health needs. Be the voice for the voiceless!
Responsibilities of the AmeriCorps position include but are not limited to:
Quality improvement projects around CRC screening, OB access, and Diabetic Health by supporting patient reminder systems, support patients with access to care, and initiatives that provide patients access to education and resources that lead them to a healthier life style.
Support the improvement of KCHC clinical indicators through data review, data tracking and analysis, and other parts of the project as identified.
Support projects around patient access to care by promoting KCHC's Patient Portal and assisting patients with the registration process.
Educate the community on insurance access and chronic disease management and prevention, and how to connect to KCHC for services, and support Open Enrollment Events.
Participate in Health Fairs, Community events, Awareness initiatives in Kenosha County and the surrounding communities to promote KCHC Services, including medical, dental, behavior health, and KCHC's new Racine Clinic and Salem Lakes Clinic.
Participate in the Non-Profit Networking Group and Events to make connects with other community organizations.
Program Year:  9/1/2019 – 8/31/2020 Number of Positions: 1
Summary of Additional Benefits Offered:
Living allowance of up to $13,992
Health Insurance (if eligible)
Dental Insurance (if eligible)
Vision Insurance (if eligible)
Child Care Benefits (if eligible)
Education Award of $6,095 upon completion of 1700 hours and required activities
Loan forbearance and interest repayment on qualified student loans
Year-long immersion experience in public or community health
CLICK HERE TO APPLY TODAY!
Questions about the position and Kenosha Community Health Center contact:
Nicole Hunt, Quality and Grant Manager
262-764-3613; [email protected]
Questions about Wisconsin HealthCorps:
Kysa Stocking, Program Director
608-443-2956; [email protected]
Do not wait to schedule your appointment.
Kenosha Community Health Center has many appointment options in Kenosha and Silver Lake to meet your needs.