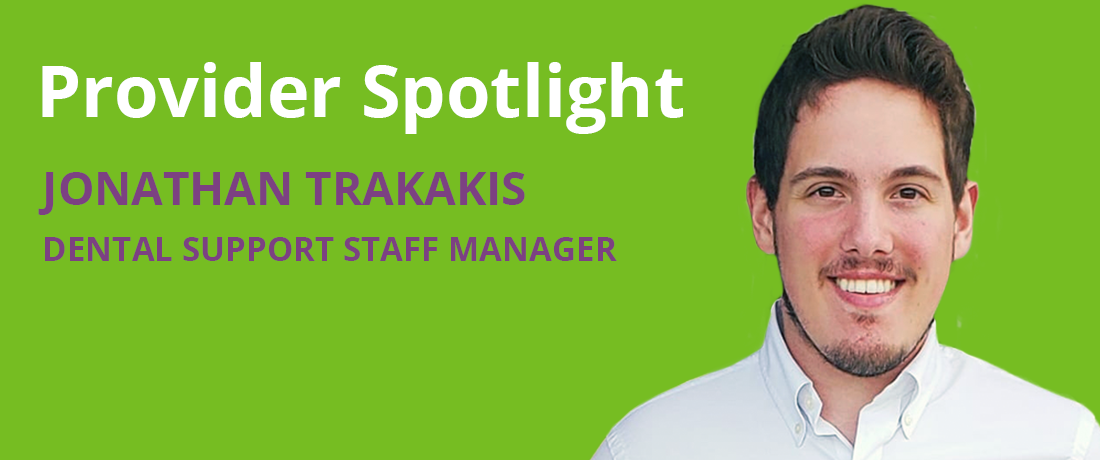 Provider Spotlight: Jonathan Trakakis
Year Started at KCHC:
2021
What areas do you specialize in?
Healthcare & Management focused in Dentistry.
Brief description of your professional expertise/experience/reason for choosing your field:
I have eight years of on and off dental experience between dental assisting, supervising and practice management. My family life has been dentistry, with my father being a General Dentist and my mother being a Dental Assistant. My main reason for choosing the field is to provide healthcare for patients in need with the skills and education I have grown up with and learned. My goal is to one day provide services as a Dentist myself.
Why did you choose to work for Kenosha Community Health Center, Inc.?
I chose to work at KCHC because it provided a new opportunity for me to provide care to underserved patients in need, and utilize the management skills I've learned from managing at a DSO. I support the clinical staff and providers here to provide better care for our patients, and I am using this opportunity to ultimately further my education and advancement in the Dental field.
Education:
I earned my Bachelors from the University of Iowa in Health Studies with a Pre-Dental Focus; I then attended my first Master's Program at Midwestern University in Biomedical Sciences, and I am currently attending my second Master's Program to earn an online MBA in Healthcare Administration through Benedictine University.
Practice Location:
Kenosha Dental Clinic and Silver Lake Dental Clinic
Community Involvement or Hobbies Outside KCHC:
I am an avid automotive enthusiast and love working on, driving and buying cars. This is a love passed onto me from my father and one which I will pass onto my children.